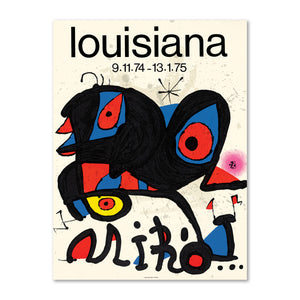 Louisiana poster featuring the work of the Spanish surrealist painter and sculptor, Joan Miro (1883-1983), which Louisiana exhibited in 1974/75. Miro was one of the great individualists of modern visual art, characterized - and still characterizes - European painting and was never locked in -isms, but moved between media with preserved intensity in his expression.
Miro's starting point was surrealism, as he encountered it in Paris in the 20s. Also in this phase, the Spanish master avoided getting stuck, but quickly found his own idiom, which ran like a common thread throughout his work.
Miro was not only a creator of forms in Europe, but also started American Expressionism after his first visit to the USA in the 30s. American artists later repaid the influence that, for example, Rauchenberg and Jasper Johns had on Miro during his many visits in the 60s.
Joan Miro also became an inspiration here at home. For a number of Danish artists, e.g. Asger Jorn and Richard Mortensen, Miro's work became the way to a freer, non-figurative form, and Miro's influence can be directly read in the pictures of many Danish artists.
Dimensions
W 49.1 x H 66 cm