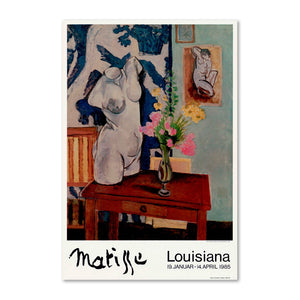 Plaster Torso and Bouquet of Flowers by Henri Matisse 
Plaster Torso and Bouquet of Flowers, (1919), by French artist, Henri Matisse (1869-1954). The poster is one of three posters that were printed in connection with Louisiana's exhibition with Matisse in 1985. All three posters are today part of the museum's special selection of Louisiana poster classics.
In the work, Plaster Torso and Flower Bouquet, Matisse has combined his work with the painting in a still life with a torso sculpture on the table.

Henri Matisse is famous for his use of both color and form in painting. In 1890 - after a long hospital stay - he really tried his hand at painting and subsequently moved to Paris.

Here impressionism influenced him for a period, but in 1905 he was at the forefront of a number of younger French artists, and developed the art direction Fauvism, which is characterized, among other things, by strong, pure colors.
Although Henri Matisse is best known to many for his paintings, he also worked with sculpture, graphic prints and, in the last four years of his life, with paper cut-outs and collages.
Matisse is one of the most influential artists of the 1900s and is today considered as one of the shapers of modern art.
Dimensions
W 61.8 x H 91.8 cm