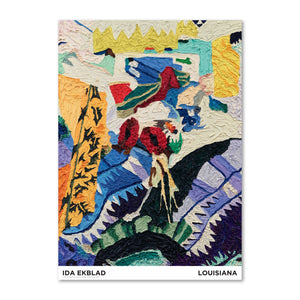 Ocean Girls by Ida Ekblad
Ocean Girls, (2020), by Norwegian artist, Ida Ekblad (b. 1980). Oceans Girls offers a marked physical presence in color and shape, which is almost modeled strongly in paint. As if Ekblad wants to tell you that a picture can also be a thing – and in this case very physically heavy due to Ekblad's conscious use of a lot of material. Ocean Girls is part of Louisiana's collection.
Ida Ekblad lives and works in Oslo. Her artistic practice includes a wide group of media, such as painting, sculpture, performance, film and poetry. She is educated at Oslo National Academy of the Arts (2007) and Mountain School of Arts, Los Angeles, USA (2008). She participated in the Venice Biennale (2011, 2017) and has participated in a large number of other solo and group exhibitions.
Ekblad's work is owned by a large number of important public and private institutions and collections around the world.
Dimensions
84.1 x 59.4 cm