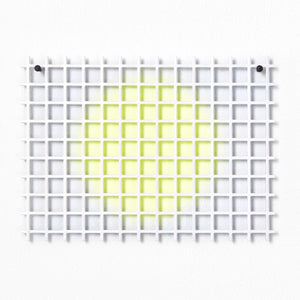 • Signed and numbered hanging object
• Aluminum mesh, paint
• 17 × 12 cm
• Suspension: Two nails

White painted metal mesh hangs (by just two nails) on a white painted wall. On its back a bright coloured shape. Invisible. But its color glows so strong it reflects against the wall and seeps through the holes of the mesh. As an intangible soft glowing coloured shadow.
Created in collaboration with Post Modern Collection. An art gallery based in Amsterdam, The Netherlands. 
Chris Kabel was born in Bloemendaal, the Netherlands in 1975. He graduated in 2001 from the Design Academy Eindhoven. In 2002 he moved to Rotterdam where he started his design practice. He works for and with design labels, architects, cultural institutions and design galleries. He is a professor at the Ecole Cantonale d'Art in Lausanne (ECAL).